Happy Monday to everyone. I have a super special treat for you today. Mandy, from Mandy's Recipe Box, asked me to do a guest post on her blog today, so we decided to switch for the day. To see my regular post head on over to her site. Scroll down and look at the super yummy surprise she has for you! Make sure you check out her blog, it is adorable and full of down home country farm food. Enjoy!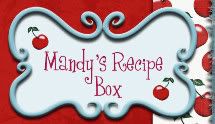 I asked Mrs. Rainy Day Farm to do a guest post on my cooking blog and she in turn asked me to do one on her blog. I was very excited! So head over to my blog and you will find her post.
I came across this cute blog and have become hooked. I love that she lets us into her cute life with her cute family. So here we go!
This recipe is so fast and easy, which I love about it. I made it for a meeting I had to go to and there were no leftovers. My kids even loved it, which is an added bonus since they are such picky eaters. If they like a recipe, it is a keeper at my house! You can use fresh or frozen blueberries. If you are using frozen, don't thaw them before using. Just add them the way they are. Warning: Super addicting, one bite is not enough. If you are on a diet, you may want to look away...

Blueberry Snack Cake
2 c. flour
1 1/2 c. sugar
1/2 c. cold butter
1 tsp. baking powder
1 c. milk
2 egg yolks
2 egg whites
2 c. blueberries
In a mixing bowl, combine flour and sugar. Cut in butter with a fork or pastry blender until crumbly. Set aside 3/4 c. for topping. Add baking powder, milk, egg yolks. Mix well. Beat egg whites til soft peaks form. Fold into batter. Pour into a greased 9x13 baking dish. Sprinkle with blueberries and reserved crumb mixture. Bake at 350 for 30-35 min or until golden brown and toothpick comes out clean. Enjoy with a cold glass of milk!
This is what your pan may look like, so don't be surprised...
(Rainy Day Farm)-Doesn't' this look delish? I think I need to make this for breakfast this week. It is going on the menu for sure. Thanks for stopping by the farm and thanks to Mandy for sharing such a great recipe.