Since it is a dreary, gray, rainy day here on the farm I thought I would share a few of my new favorite things. First off is a new sight that I found. Click on the button below to check out Mandy, a super cute country gal with an arsenal of recipes to make your butt as big as Mt. Rainier. Warning: Don't go there hungry, that's for sure.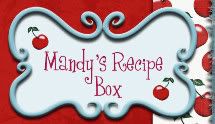 I found this super yummy recipe for two of my favorites combined into one scrumptious concoction of brownie and chocolate chip cookies. I am not sure what to call these tasty little morsels...brookie, cownie? I am torn, but one this is for sure these will be a crowd pleaser! Don't you just want to take a big bite of that puppy! Make sure you get a BIG glass of milk when you make these.

Chocolate Chip Cookie Brownies

1 box of your favorite brownie mix (or your favorite recipe)

Your favorite chocolate chip cookie recipe.
(I used the Nestle Tollhouse like Mandy suggested, so here is that recipe in case you don't have it)

2 1/4 cups all-purpose flour
1 teaspoon baking soda
1 teaspoon salt
1 cup (2 sticks) butter, softened
3/4 cup granulated sugar
3/4 cup packed brown sugar
1 teaspoon vanilla extract
2 large eggs
2 cups (12-oz. pkg.) Chocolate Chips
1 cup chopped nuts (optional)
Make the brownie batter according to its directions. Spread into a greased 9x13 baking dish. Prepare the cookie dough: Combine flour, baking soda and salt in small bowl. Beat butter, granulated sugar, brown sugar and vanilla extract in large mixer bowl until creamy. Add eggs, one at a time, beating well after each addition. Gradually beat in flour mixture. Stir in morsels and nuts. Plop spoonfuls here and there on top of the brownie batter Bake at 350 for 20-30 minutes until brownie is set and cookie dough is done. Watch the cookie dough doesn't get over baked. (I covered it with foil the last 15 minutes, to make sure the cookies did not get too brown)
My next favorite thing is Mary Janes Farm Magazine. I don't have a subscription yet, because I have a very dear friend who had one and hands them down to me when she is done. Is that the best kind of recycling and friendship you have ever heard of ? I love her to death for it. This magazine is nothing but pure joy. I read it when I need a little me/girl time. Make a cup of tea, sit in a comfy chair and thumb through this wonder magazine. You will love it.
The last favorite thing was a gift from another really great friend for Christmas. (I have the best friends) This is a spray for your pillow before you go to sleep at night. It is the most comforting, homey, sweet, relaxation inducing smell I have ever smelled. My hubby makes me spray his pillow with it every night. No matter how stressed you are this makes the whole world right! You can find this bottle of joy at Bath and Body Works. Run out and get some today, you will not regret it!
Hope you have a happy Saturday.